Pre-support memberships are a way for a bid to raise funds to promote its bid. Columbus is offering a range of rates and when combined with a vote in 2019, depending on the level of support, it gains you a discount on membership or converts to an attending membership should we win. Should you not vote, your pre-support will apply to membership pricing at the time of the vote.
Pre-Support Levels:
Robot: $25
Rocket: $50
Red Dragon: $75
Regent: $100
Pre-Oppose Levels:
Red Shirt: $25
Rebel: $50
Replicant: $75
Rocketeer: $100
Payments can be made via check payable to Columbus 2020 NASFiC which should be mailed to:
Columbus2020NASFiC
c/o SOLAE Foundation
P.O. Box 30664
Columbus OH 43230-0664
There will be other electronic options for payment through PayPal and Square in the near future. Cash will be gratefully accepted at our Bid Tables at conventions to be determined, but certainly at Worldcons.
Help us Spread the word!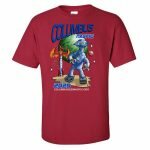 Order a bid shirt from Off World Designs. Here is the link. Order Here!