We won the vote! THANK YOU for all the support this last year! Our dates are August 20-23, 2020. Our facilities are the Sheraton Columbus Hotel at Capitol Square in Columbus, Ohio.
Our Guests so far include:
Author Guests of Honor: Brian Herbert and Kevin J. Anderson
Artist Guest of Honor: Stephanie Law
Editor Guest of Honor: Christopher J. Garcia
Science Guest of Honor: Marc Millis, NASA Scientist
Fan Guests of Honor: Sue and Steve Francis
Ring of Fire Minicon Guest: Eric Flint
What is Worldcon or NASFiC exactly? How are they related?
The World Science Fiction Convention (Worldcon) is an annual convention held since 1939 (skipping 1942-1945), which gathers fans (and pros) from around the world. Worldcon is also where members vote for the Hugo awards. Worldcon 75 (2017) was held in Helsinki, Finland. Worldcon 77 (2019) will be in Dublin, Ireland. Whenever Worldcon is held off of North America, a North American Science Fiction Convention (NASFiC), is optionally held as well. The NASFiC is an alternative for fans who can't make it to Worldcon overseas. The location of the NASFiC is determined by members of a Worldcon (or NASFiC) through a voting process. NASFiC 2017 was held in San Juan, Puerto Rico, and Layton, Utah will host the NASFiC in 2019. See www.spikecon.org for more information. Worldcon 78 (2020) willl be held in Wellington, New Zealand. Visit https://conzealand.nz for details.
Our goals in hosting a NASFiC are:
To encourage involvement and growth within the Worldcon community;
To unite the multi-faceted fan communities across the North American continent;
To celebrate the diversity of fandom around the world; and
To invite the world to experience Columbus, Ohio.
You are invited to attend NASFiC, August 20 – 23, 2020 at the Sheraton Columbus Hotel at Capitol Square in Columbus, Ohio where we will offer a wide variety of events and programs that will satisfy the many interests of fans around the world. THANK YOU to the staff of the 2019 NASFiC held in Layton, UT for its hospitality and efficiency in carrying out the site selection process.
WHY A NASFiC?
Columbus, Ohio is home to many events that celebrates and highlights interests fans enjoy. There are events that highlight anime, gaming, literature, art, comics, pop culture and media over the course of the year. Columbus hosted the World Fantasy Convention in 2010 and 2016. We feel that the city is ready for a NASFiC and consider it a unique opportunity to gather the genres in one place and throw a big party to celebrate the many facets of fandom.
Help us Spread the word!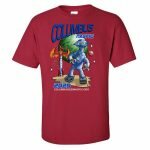 Order a bid shirt from Off World Designs. Here is the link.  Order Here!